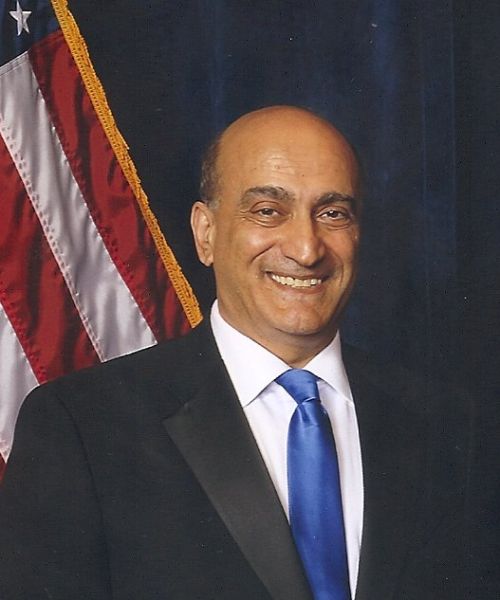 Dr. Walid Phares
Professor Walid Phares served as a Foreign Policy Advisor to Presidential candidate Donald Trump in 2016. He also served as a National Security Advisor to Presidential Advisor Mitt Romney in 2011-2012
Professor Phares has been an advisor to the US House of Representatives Caucus on Counter Terrorism since 2007 and is the Co-Secretary General of the Trans-Atlantic Legislative Group on Counter Terrorism since 2008.
He is Fox News Terrorism and Middle East Expert since 2007 and has been MSNBC-NBC Terrorism Analyst from 2003 to the end of 2006.
He has taught Global Strategies at the National Defense University in Washington DC since 2006, lectured at the National Intelligence University since 2008 and was a Professor of Middle East Studies, Ethnic and Religious Conflict at the Department of Political Science at Florida Atlantic University (FAU) from 1993 to 2006. Professor Phares has also been a senior lecturer on the War on Terror and Global Conflicts at the LLS Program of FAU and the IRP Program at the University of Miami. Previously he taught at Florida International University in 1991 and 1992 and at Saint Joseph University in Beirut in the 1980s. Currently he is a visiting Professor at Washington DC based private universities. He was appointed as director for international relations and Political Sciences at BAUI University in Washington DC since 2013 and was appointed as a Provost of BAUI in 2014.
Professor Walid Phares was a Senior Fellow and the director for Future Terrorism Project at the Foundation for the Defense of Democracies in Washington (2001-2010). He was also a Visiting Fellow with the European Foundation for Democracies in Brussels (2006-2010).
As an international expert on conflicts and terrorism, Professor Phares lectures on campuses, nationwide and internationally. He testifies to and conducts briefings at the US Congress, the European Parliament and Commission, and the UN Security Council, as well as to US State Department and other foreign ministries worldwide and to officials on Counter Terrorism in Europe and the United States. Dr Phares was an advisory board member of the Task Force on Future Terrorism of the US Department of Homeland Security (2005-2007) and a member of the NSC advisory task force on Nuclear Terrorism (2006-2007)
Dr Phares has also lectured to and advised the US Departments of Justice, Defense, and Homeland Security, as well as regional commands such as CENTCOM, SOUTHCOM, AFRICOM, on academic research on Terrorism. He has served as an expert on Terrorism with the US and European Governments and briefed law enforcement agencies, including INTERPOL since 2003. Dr Phares serves as an academic advisor to several Human Rights and Middle East and Africa communities groups.
He has published 13 books including, Future Jihad: Terrorist Strategies against the West, The Coming Revolution: Struggle for Freedom in the Middle East, which predicted the Arab Spring and projected the ongoing revolts in the Greater Middle East. His most recent book is, The Lost Spring: U.S. Policy in the Middle East and Catastrophes to Avoid.
Kenneth R. Timmerman
Ken Timmerman is a nationally recognized investigative reporter and war correspondent who was nominated for the Nobel Peace prize in 2006 for the work he has done to expose Iran's nuclear weapons program. Prominently featured in the documentary, "Iranium," Ken is one of the half-dozen true experts on the Islamic Republic of Iran in the U.S. today. Since 1995, he has run the Foundation for Democracy in Iran (iran.org) and regularly meets with Iranian dissidents overseas. He lectures on Iran at the Pentagon's Joint Counter-Intelligence Training Academy, JCITA.
From 2004-2011, Ken was the lead outside investigator for a consortium of law firms representing the families of 9/11 victims. Based on eyewitness testimony Ken elicited from Iranian defectors, a federal district court judge ruled in December 2011 that Iran "shared responsibility" for the 9/11 terrorist attacks with al Qaeda and awarded the victims a $6 billion civil judgment.
In 2012, he was the Republican nominee for Congress in Maryland's 8th District, where he was endorsed by Ambassador John Bolton, former CIA Director R. James Woolsey, and other senior national security officials, as well as by leading state and local officials.
He is also a witness to the persecuted church, and has published a book about the Christians of Iraq, St. Peter's Bones, based on recent trips to Mosul and Amman, Jordan.
For the past thirty years, Ken has covered both sides of the Arab-Israeli conflict, interviewing radical imams and would-be suicide bombers in Gaza, while reporting on the plight of Israeli citizens during the Hezbollah missile attacks of the 2006 war. As a young reporter in 1982, he was taken hostage by Palestinian guerilla fighters in West Beirut where he was born again to his Christian faith.
Famed Nazi-hunter Simon Wiesenthal said of Ken, "I have spent my life tracking the murderer's of yesterday. Mr. Timmerman is tracking the murderers of tomorrow."
His latest book, Deception: the Making of the YouTube Video Hillary and Obama blamed for Benghazi, was released by Post Hill Press on July 19, 2016. During the 2016 election campaign, he served on the National Security and Foreign Policy Advisory Board of Trump for President.
M. Zuhdi Jasser, M.D.
M. Zuhdi Jasser, M.D. is the Founder and President of the American Islamic Forum for Democracy (AIFD) and is the author of A Battle for the Soul of Islam: An American Muslim Patriot's Fight to Save His Faith (Simon & Schuster, June 2012). On March 20, 2012, Dr. Jasser was appointed by Senate Minority Leader Mitch McConnell (R-KY) to the United States Commission on International Religious Freedom (USCIRF) where he served as Commissioner and Vice-Chair until May 2016.
Jasser is a first-generation American Muslim, whose parents fled the oppressive Baath regime of Syria in the mid-1960's for American freedom. He is a devout Muslim with strong ties to the American Muslim community having helped lead mosques in Wisconsin, Arkansas, Virginia, and Arizona.
In the wake of the 9/11 attacks on the United States, Jasser and a group of American Muslims, founded AIFD as a Muslim led organization striving to addresses the root cause of the domestic and international threat of radical Islamist terrorism while promoting Muslim voices for liberty and freedom through the separation of mosque and state. In 2008, Dr. Jasser worked with Clarion to narrate a film called "The Third Jihad" a Clarion Project film, that explores the rise of Islamist extremism in America.
Jasser regularly briefs members of the House and Senate on the threat of Political Islam and testified before the United States House of Representatives Committee on Homeland Security on March 10, 2011 on "The Extent of Radicalization in the American Muslim Community and that Community's Response", and again on June 20, 2012 on "The American Muslim Response to Hearings on Radicalization within their Community". Jasser testified before the United States House of Representatives, Committee on Foreign Affairs, Subcommittee on Africa, Global Health, Global Human Rights, and International Organizations on "Anti-Semitism: A Growing Threat to All Faiths" on February 27, 2013, on December 10, 2013 on "Human Rights Abuses in Egypt", on June 16, 2016 on "The Global Religious Freedom Crisis and Its Challenge to U.S. Foreign Policy" and on June 28 2016 to the Judiciary Subcommittee on Oversight, Agency Action,Federal Rights and Federal Courts on "Willful Blindness: Consequences of Agency Efforts To Deemphasize Radical Islam in Combating Terrorism" chaired by Sen. Ted Cruz (R-TX). On September 22, 2016, he testified before The House Committee on Homeland Security's Subcommittee on Oversight and Management Efficiency "Identifying the Enemy: Radical Islamist Terror." On July 11, 2018, Dr. Jasser testified before The House Committee on Oversight and Government Reform, Subcommittee on National Security on "The Muslim Brotherhood's Global Threat" which can be viewed here.
An internationally recognized expert on Islamism, Jasser is widely published on domestic and foreign issues related to Islam, Islamism, and modernity. His work is featured in The National Review, The Washington Times, The New York Post, CNN, CBS, Fox News Channel, MSNBC, Al Jazeera, BB, and other national and international outlets. In addition, Jasser has spoken on nationally syndicated radio programs and hosts a podcast REFORM THIS! on the Blaze Radio Network. He has also spoken at hundreds of national and international events including universities, places of worship, and government venues.
Jasser was presented with the 2007 Director's Community Leadership Award by the Phoenix office of the FBI and was recognized as a "Defender of the Home Front" at the annual Keeper of the Flame Dinner of the Center for Security Policy in 2008. He is also a contributing writer to a number of books and is featured in four documentaries: America at Risk; Islam v Islamists; A Question of Honor; and The Third Jihad.
Jasser earned his medical degree on a U.S. Navy scholarship at the Medical College of Wisconsin in 1992 and served 11 years as a medical officer in the U. S. Navy. His tours of duty included Medical Department Head aboard the U.S.S. El Paso which deployed to Somalia during Operation Restore Hope; Chief Resident at Bethesda Naval Hospital; and Staff Internist for the Office of the Attending Physician to the U. S. Congress. He is a recipient of the Meritorious Service Medal. Jasser is a respected physician currently in private practice in Phoenix, AZ specializing in internal medicine and nuclear cardiology. He is a past-President of the Arizona Medical Association.