John Hajjar, Co-Director and President
EDUCATION
1991 Catholic University of America, Columbus School of Law; Juris Doctor
1987 Boston University, College of Engineering; Bachelor of Science, Manufacturing Engineering
EMPLOYMENT
1998 – Present Foxcroft, Inc., Quincy, MA; President
Own, manage and develop retail, industrial and office properties with a portfolio of over 400,000 SF
2005- Present Skinner Overlook Landscape & Design, Inc., Braintree, MA
Own leading landscape maintenance and design firm on South Shore of Boston
1991- 1999 S. John Hajjar, Attorney at Law, Quincy, MA; Solo Practitioner
Practiced law in the fields of civil litigation and real estate
1987 Raytheon, Watertown, MA; Manufacturing Engineer
Worked on Patriot Missile project
SERVICE
· American Mideast Coalition for Trump; Co-Chairman (served as surrogate for Donald Trump's Presidential campaign)
· Middle East Christian Coalition (MECHRIC); Executive Board Member
· American Mideast Coalition for Democracy; Co-Chairman (2012-present)
· World Council of the Cedars Revolution; National Director (2006-present)
· Harvard Catholic Center; Member, Senior Chaplain's Advancement Council (2017- present)
· Boston College High School, Dorchester, MA; former member, Board of Trustees, former Chairman of Buildings & Grounds Committee & member of Executive Committee (2007- 2017)
· World Lebanese Cultural Union, USA & Canada; President (2004-2006)
· World Lebanese Cultural Union, Boston, MA; past President of the Greater Boston Chapter
· Holy Spirit University Foundation, Kaslik, Lebanon; former member of the Board of Directors
· Ursuline Academy, Dedham, MA; member of the Campaign Cabinet Committee
· Milton Republican Town Committee, Milton, MA; active member
· Town of Milton, MA; Town Meeting Member
I have appeared on numerous media outlets including Fox News, CNN, RT International, Sky News Arabia, Orient TV and many other print media as an expert in Middle Eastern affairs and as an advocate for Christian and other ethno-religious minorities in the Middle East.
PERSONAL
· Married to Astrid Mattar, Father of Carine, Nicholas & Victoria
· Avid skier and golfer
· Annunciation Melkite Cathedral, Boston, MA; current member of Parish Finance Council & past member of the Parish Pastoral Council over many years
· Saint Jude Children's Research Hospital, Memphis, TN; active fundraiser, co-chaired many gala fundraisers in the Boston area

Tom Harb, Co-Director and Treasurer
Tom Harb was the CO-Chair for the American Middle East Coalition for Trump during 2016 election. AMCT is a coalition of Middle eastern organizations and affiliates who believed in Candidate Trump's agenda. He played an educational role among the Middle eastern communities in United States and through Middle East media. Also, Tom Harb is the President of the World Council of the Cedars Revolution WCCR – USA Chapter, an NGO representing Lebanese activists worldwide. The WCCR was established in 2006, after the people of Lebanon rallied in demand for freedom and independence. It is now considered the most unwavering union in representing the hope and aspirations of millions of Lebanese and the Diaspora.
In support of the WCCR's mission, Mr. Harb became particularly influential aiding (along other teams of Lebanese experts /activists the UN) in introducing what is now known as the UNSCR 1559; a resolution centering on the disarmament of all militant and terrorist organizations in Lebanon. Mr Harb became the Secretary General for the International Lebanese Committee for UNSC 1559. Its creed includes the following message…
"The International Lebanese Committee for the United Nations Security Council Resolution 1559 was formed by a number of Lebanese leaders in diaspora to follow up on the full implementation of the said resolution.."
Mr. Harb is also Chairman of the American Maronite Union. An alliance working closely with the Maronite American Leadership and the Maronite Lebanese Leadership to preserve Lebanon's sovereignty and independence where free, Christian advocates can continue to be heard as liberty was best intended. The Union also aids in educating the Maronite American-Lebanese communities on heritage, culture, ethnicity and the importance of sustained patronage for the future of the Lebanese freedom and its Christian base.
Mr. Harb's frequent participation and speaking engagements include appearances at major universities, numerous UN Mission meetings as well as European Parliaments, conferences in Brussels, Paris, Lisbon and Vienna. He has also appeared on media outlets such as MSNBC, Fox News, al-Hurra, Al-Jazera, France 24, Russia Today, I-24, BBC as well as various radio talk programs.
Tom Harb is an industrious citizen of the United States and a steadfast guardian of Lebanese culture and traditions. Born and raised in Lebanon and educated in the United States, Tom Harb obtained a Bachelor degree in Civil Engineering from UMASS University in 1982 and a Masters in Structural Engineering from NJIT (New Jersey Institute of Technology) in 1983. Mr Harb began his career as an engineer for the city of New York in 1983. In 1986, Tom founded his construction firm, Harbco, Inc.; a corporation ongoing as one of the top 28 construction firms in Central Florida. In addition to leading the construction field, Tom oversees several thriving companies, one of them being Phoenicia Development, LLC (an Orlando-based real estate development company). Tom is Chief Executive Officer of Phoenicia; a role showcasing his proven business sense.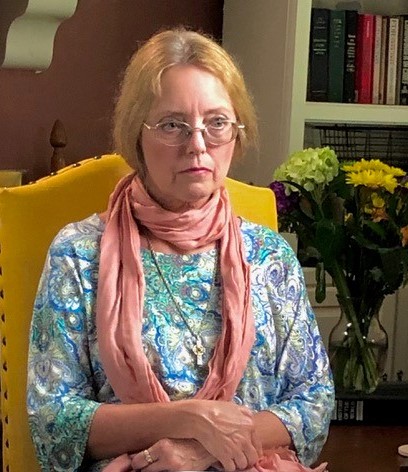 Rebecca Bynum, Secretary
Rebecca Bynum is the Publisher for New English Review Press which specializes in books focusing on the Middle East. She also serves as assistant to Dr. Walid Phares, co-Secretary General of the Trans-Atlantic Group on Counter-Terrorism and who was Foreign Policy Advisor to Presidential Candidate Donald J, Trump, 2016.